May 23, 2015
The scrapbookification of the church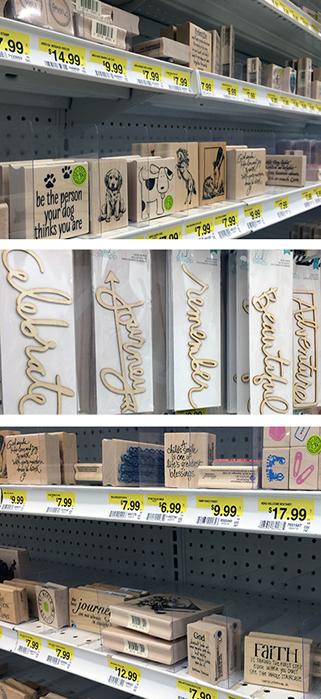 A few years ago, I began making what I call "bad art" as a form of personal therapy. It started out as an "art journal" where I threw a lot of paint around, experimented with something called "mixed media" and wrote some very raw short essays about my frustrations with the local church. I found doing this helped me be honest with myself and eventually put me on the road to a healthier relationship with The Church in general.
Because my initial attempts at adding the art to the journal were so awful, and I didn't know gesso from gel medium, I began taking the occasional techniques class at a local independently owned craft store. These classes really helped me become familiar with the materials, the techniques and the options available, and slowly I began to recognize my own preferences and even develop a bit of a style. Soon I was able to shop the Michaels A.C. Moores and Jo-Anns, and not look too stupid in the serious art supply stores.
Not too long into the journey I began to notice something about the art and crafts world and the companies that produce its products. It is deliberately, relentlessly cheerful, a self-help, positive-thinking, Norman Vincent Peale world where every dream is within reach, every goal can be obtained, all relationships are cherished, the children are always well behaved and it is probably somebody's special day on a long, sunny weekend.
The colors are bright, the papers are themed with birds and butterflies and seashells. Fabric flowers and lace are often added, as are "vintage" buttons and trinkets. Rubber stamps are used to personalize the finished pieces with cute animals or aspirational words like "believe" and "journey" and "faith" and "friends."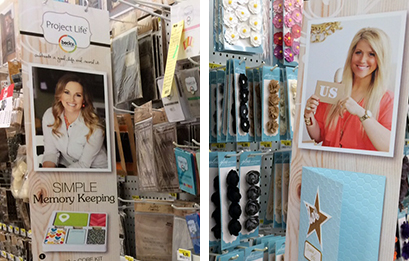 There are even "craft celebrities," personable and attractive people, each with their own techniques and "look" and line of products. Each has a slightly different spin on the overall theme of pleasantness. There's the homespun artist, the sassy artist, the vintage artist, the edgy artist, the urban-y artist. They make videos and represent their companies at craft conventions, and even come by local stores like the one I frequent to teach weekend classes, which of course feature their products.
The current industry grew out of the scrapbooking craze of the last decade, where women were encouraged to take scissors and glue and family photos and memorabilia (and the fancy papers and trinkets and stamps and embossing and diecutting and ephemera that the craft companies sold) and make intricate pages celebrating births and bithdays and trips and holidays. Scrapbooking begat card making begat mixed media begat art journals, and so on.
Scrapbooking itself has suffered a downturn recently, as many women realized they didn't have the time or the money to put into it. I also suspect people began to realize their lives were not exactly an unbroken string of happy days, vacations and perfect children. There aren't many products out there that you can use to chronicle the drudgery of daily life, let alone lost jobs, illnesses, kids in trouble, disappointments.
Still, I have been surprised at how so many women (almost always it is women) seem to draw satisfaction, escape and even hope from participating in this idyllic world. They like and seem to believe all the slogans and aspirations.
That's not something that works for me. I tend to be a pessimistic realist. Early on I learned what I could take away from these classes was an understanding of the different products' purposes and a working knowledge of how to use them. The relentlessly cheerful class projects were not what I had come for, nor was the interaction with the craft celebrities. I wanted to learn how to make the craft art so I could then use it for my own purposes---to continue to heal and then to hopefully engage and help others.
*****
Sometimes when I look at what some segments of the church have become in the last few decades, I see scrapbooking world. There's a whole system out there that markets Jesus as the way for families to have a perfect life together. Build up your marriage! Keep your children safe from harm! Follow Jesus and you'll be happy, healthy and prosperous, having the life God imagined for you. Believe. Celebrate. Have Faith on this Beautiful Journey called Life.
This seems to be what some people want: to go to church on Sunday, give their children a Christian Experience tailored just for them, while they listen to uplifting music and a sermon about right living through Jesus. Leave feeling happy and fulfilled, and validated that life is good when you're one of God's people.
I'm pretty sure that's not the point of the gospel. The gospel is to save us and heal us and then send us forth to help save and heal our neighbors. The gospel is to look at Jesus and how he lived and what he wanted us to do with our own lives, and then to live like that. Some of it leads to high points in our lives that are worth scrapbooking. But a good deal of it leads to sacrifice and not getting our own way and seeing some pretty awful stuff and doing our part to prevent and allieviate suffering.
Jesus didn't have much to say about how to guarantee a happy marriage or successful children. He didn't promise those who followed him a long life full of health, happiness and prosperity. In fact, he said, "In this world you wil have trouble—but take heart, I have overcome the world." (John 16:33)
Jesus did tell us to Believe and to have Faith. I think he'd agree that life is a Journey and an Adventure, although not in the way those terms are used today. He also told us he would never leave us alone and that we could count on his Father and the presence of his Spirit within us to guide us. That's not just for the good scrapbooking times, but for all of life.
If we are going to be Christians, we need to understand what being Christians is actually about. We need to know what God has and hasn't promised us. We need to know what Jesus thought about how we needed to live, which commandments were the foundation of the others, and what God values. We need to understand what we can count on from Whom we've put our faith in.
It is fine and profitable to go to church and hear what is being taught. But in this day and age of marketing, there are a lot of churches out there that know what sells, what gets people in the door and keeps them there. And too much of it is the scrapbooking promises of perfect, happy lives when you sign on the dotted line. What we really need to do is take it upon ourselves to examine what Jesus really said, taught and thought was important. Then we need to look at the church we attend, or are considering attending, and see whether it preaches this kind of Jesus, or one that has been tailored around false promises for human purposes.
Life is not all scrapbooking moments. The real Jesus won't make false promises to us about what life is like or what we are supposed to do with it. What he does promise is to be with us through all of it, and then afterwards. May this be sufficient for us.
.