February 14, 2002

For a Season

I buried my father a year ago today on his wedding anniversary. Eighteen months ago the church plant I was helping found was shut down. In December my father-in-law and I visited his friend, who would die two weeks later. Calvary UMC, the church I grew up in, has been slowly withering for years and two weeks ago met with a consultant for recommendations on whether and how to keep going.

And at the end of January, Tom and Billie, friends of ours who felt the call to ministry while members of my home church some 20 years ago and are now pastoring in North Carolina, lost their 26-year-old daughter Carol to a guy who was driving impaired, going the wrong way on the highway.

It's been a time to think about the shortness of life, whether of people or of churches.

And mixed with the grief and sorrow, it has been a time for gratitude.

Gratitude washed over me as I read Carol's obituary. She had worked for a food bank, a coalition for alcohol and drug abuse and as a counselor in a children's home. She had also gone on a mission trip to Africa. Her pastor described her as "a jewel."

"Well done Carol, good and faithful servant," I thought. "Well done, Tom and Billie. What a beautiful way to raise your daughter. Well done, Calvary UMC, for nurturing this family those many years ago."

*****

I felt the same way when my dad died — an overwhelming sense of gratitude for his life and for his faithfulness as a Christian. His had not been a wasted life. He did what he could with what God gave him. He stood firm in the midst of trials. He lived in integrity. He mentored those around him.

Well done Dad, good and faithful servant.

*****

I'm feeling the same way about my home church, now in what may be its final years. A pastor came out of that church. Missionaries came out of that church. The people in that church weathered, and showed compassion to, a succession of pastors who had deep personal problems. And as they aged, they cared for each other.

Calvary has 12 years to go to its 100th birthday. It's likely it won't make it. But that does not mean the church is a failure.

Well done Calvary.

*****

The church plant I was part of existed for only 18 months. Yet we had an impact on children living in poverty overseas. We fully sponsored a seminarian's education in Zimbabwe. Our sound and video equipment went to a struggling minority church. We aided a missionary family and we gave money to hurricane and earthquake victims. We opened our homes to seekers and fledgling Christians for Bible study groups.

Sometimes these days I run into people we reached out to back then. They all seem to have found their way into healthy church situations and are growing as Christians.

Well done.

*****

The Islamic religion has dominated northern Africa since shortly after its birth and conquest of the area in the 600s. Except for small pockets like the Egyptian Coptic Church, there is little Christianity in the region today.

Yet, from shortly after Jesus' time until the 600s, northern Africa was largely Christian. The monastic movement was born in the Egyptian desert. The great saint Augustine was from that region, as were church fathers like Clement, Origen, Athanasius and many of the early martyrs of the faith.

You could look at the history of northern Africa and say the Christian church failed there. And in a sense you would be right. But you could also say the church existed there for a season, and during that time, made invaluable contributions to the faith.

*****

We are all, each of us, here only for a season. We don't know how long that season may be.

Jesus died at 33. Carol died at 26, my dad at 65. Rev. Royer, pictured below, lived well into his 90s.

Walking with God doesn't guarantee long life. But it does guarantee purposeful life.

God has things for each of us to do, steps of faith he wants us to take, ways he wants us to impact the Kingdom. As we walk with him, listen to him, and then obey what we hear, he will use us for his purposes.

The tulips I photographed for this page have since faded and died. Like people, like churches, they were only here for a season. But their image lives on.

May it be so for all of us.

.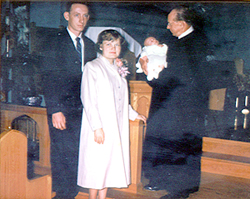 My dad, just turned 24; my mom, 23; and Rev. James Royer, a few years from retirement, at my baptism in Calvary EUB (later UM) Church, 1959. I'm the little one on whom God just poured his grace.